You want to…
learn french in an easy and relaxing way, away from classrooms and blackboards?
 …discover authentic french culture, away from the touristic route?
…learn, have fun, meet new people, and discover beautiful places off the beaten track?…
In one word you want to have an unforgetable holiday in france, and boost your french at the same time?
So come and enjoy a unique french immersion stay in the beautiful pyrenees mountains!!!
You'll be amazed at the progress you can do a in very short lap of time when you're in total immersion, living at your teacher's house…
My name is Natacha, I'm a native french women. I'm living in the south of France in the beautiful pyrenees mountain…
I am also a certified DAEFLE teacher (degree in teaching french as a second language)… And teaching french is one of my passion!
During the last 15 years I've been teaching french in many different countries, to students of all ages, levels and nationalities…
I offer you to come and live in my house to practice french in total immersion.
You will learn not only during the private french classes, but also as you discover with me the culture of my region and as we share daily life together… I believe this is the best way to improve and get more self confidence in speaking french!
---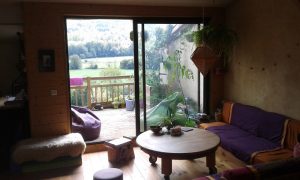 Where?
My house is very charming and cosy, and I'm sure you will feel at home very quickly… You will have here a spacious, sunny and comfortable private room with beautiful views over the mountain!
It is located in a quiet and lovely hamlet next to a beautiful river and surrounded by stunning mountains.
The nature is very green and lush, and everything is so quiet here… However there is a lot of social happenings around, (especially in spring, summer and automn), lots of festivals, concerts and local events…
I really love this region and I'll be so happy to show you all its secrets jewels, so you will fall in love with this place too!
---
What to do there?
We will decide the program of your stay together depending on your interests and desires…
Whether you like doing sportive, cultural or chilled out activities, there is so much to do in this region!
During your stay here you will have plenty of occasions to interact with locals, taste regional products, discover the local markets and cultural events, ask and answer questions, discuss about your thoughts, feelings and ideas… In this way you will improve your french in a stimulating and effortless way!